Development southern zone
Over the past 20 years, excessive, uncontrolled and often illegal road and terrace construction have led to extensive environmental damage and loss of wildlife habitat in the mountainous area between Dominical and Palmar Norte, the Fila Costeña. This high biodiversity area is part of the Path of the Tapir Biological Corridor between the Savegre and Terraba rivers identified in 2000 by Asociación Amigos de la Naturaleza del Pacífico Central y Sur (ASANA - http://www.asana.co.cr) and The Nature Conservancy (TNC - http://www.nature.org/en-us/about-us/where-we-work/latin-america/costa-rica/).
In 2007 the Municipality of Osa finally started to take steps to reduce and control earthmoving and road construction works. New detailed regulations for construction permits were published.
In 2008 and 2009 the Environmental Court of the Ministry of Environment, the Tribunal Ambiental Adminstrativo, stepped in and closed down 33 construction projects in the Fila Costeña for violation of environmental legislation. See the website of TAA: www.tribunalambiental.go.cr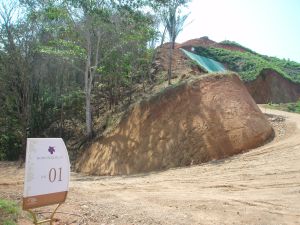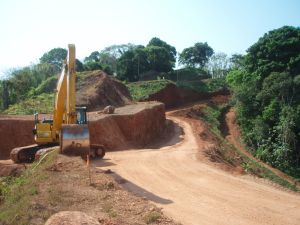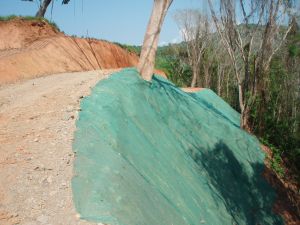 Unscrupulous developers think there are no limits: in 2011 Canadian developer Ron Olsthoorn presented his 8 stories high 56 condominiums mega VISTA BAHIA project right in the middle of the environmentally sensitive area above Dominicalito, see two fotos below. In 2014, after two years of intense legal action, EALA succesfully stopped the project, it would have destroyed an essential part of the forest and scared away remaining populations of howler and white-faced monkeys and birds such as crested guans, great currasows, two tucan species, laughing falcon, etc. The project, located in the Biological Corridor "Paso de la Danta". would also have jeopardized the scarce water resources for the communities in the area. As became apparent later, the developer intended to build 86 apartments at prices up to $ 1,1 million.
Not giving up, in August 2014 and now in the name of his wife Martha van Eden-Olsthoorn, developer Olsthoorn re-submitted an application for exactly the same project which was granted by SETENA within three months, without even visiting the site of the project. EALA found out and presented in December 2014 an extensive appeal which resulted in a favourable decision by the Comisión Plenaria of SETENA who ordered further environmental investigations. In August 2015, EALA outlined its objections in a hearing of the Comisión and after repeated demands, SETENA requested in May 2016 a technical evaluation by ACOSA, the environmental authority of the Canton Osa, as required by Costa Rica's Law on Biodiversity.
ACOSA submitted its report to SETENA in July 2017 and recommend SETENA that Costa Rica's Underground-water and Drainage authority SENARA (http://www.da.go.cr/senara) investigated the capacity of the aquifer. After apparently the project file was lost and found again, and more delays were incurred, at last in December 2018, SETENA ordered the developer to submit within three months the report of SENARA. Since the developer did not do that, finally, but only again after various submissions by EALA, on 1st August 2019, SETENA definitely cancelled the project. A victory for Nature around Dominical!